Profit-With-Purpose and the G8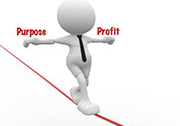 Profit-With-Purpose and the G8
April 6, 2014 | 6355 views
"I wanted to say that you don't have to be a charity to do this – there's a different kind of business that can survive and become sustainable. I didn't see why you couldn't do good and bake it into the business model." So says My Choice Pad's Zoe Peden, one of a growing number of social entrepreneurs who are choosing a for-profit legal form for their social ventures. With increasing attention from both socially- and commercially-motivated investors, policymakers across the G8 nations are now sitting up and taking notice of so-called 'profit-with-purpose' businesses.
UnLtd, the UK's leading supporter of social entrepreneurs, has seen applications from for-profit social ventures rise significantly in the last few years. They now represent over half of all applications for its 'scaling up' programmes such as the Big Venture Challenge. This week, UnLtd launches new research* into why these social entrepreneurs are opting for a for-profit legal form, and what they are doing to lock in their social mission for the long-term.
Typically, these UK-based social entrepreneurs are choosing the Company Limited by Share (CLS), a legal form more commonly associated with for-profit, 'mainstream' business. The CLS is seen as straightforward to set up, and easily understood by entrepreneurs and their customers, investors and other stakeholders. In some markets, it is more widely recognised than specific legal forms more usually associated with social enterprise, and it can lend credibility and perceptions of sustainability among some stakeholders. It is flexible enough to be an investable structure in which social purpose can be embedded, and allows for innovation and adaptation as the social venture progresses.
But do these social entrepreneurs run the risk that their social purpose is questioned or not recognised? Some acknowledge a negative perception and initial mistrust among certain clients and users, particularly in sectors such as health and education. But they have generally found that once business relationships and a certain level of trust have been built up, their for-profit form has ceased to matter. Indeed, some have found that being perceived as 'social' can be a bigger barrier than being seen as 'for-profit'.
However, most of these social entrepreneurs are convinced of the value of embedding their social mission into the business, both to lock it in for the long term and to demonstrate it to investors or customers who are interested in their social impact. Most felt that demonstrating their social purpose through their ventures' working culture and the nature of their products and services was critical. But they also acknowledged the importance of more formal, legal mechanisms, such as writing the social mission into the Articles of the business, protecting this with a 'golden share', or making binding commitments to impact reporting and ethical working practices. The research found that early-stage ventures were more likely to rely on behavioural and values-based approaches, while more established businesses tended to use a combination of these and harder, legal mission locks.
Profit-with-purpose businesses such as these are attracting increasing attention from policymakers in the UK and beyond. Since a G8 meeting in June 2013, a Social Impact Investment Taskforce has been looking at how more capital can be channelled into social purpose ventures, investing in achieving greater social impact. The Taskforce has established expert working groups to develop recommendations on what G8 countries can do to encourage this.
One of the working groups focuses on the 'mission-alignment' of social purpose businesses. The aim is to identify measures that reassure social investors and other stakeholders that these businesses will stay on mission, while allowing sufficient flexibility to attract the investment required to deliver substantial social impact. The group is analysing the situation in all G8 countries, starting with what is legally permissible in each jurisdiction, and what mechanisms social entrepreneurs can use to embed their mission into their businesses. These mechanisms are likely to include a mix of legal mission locks applied through constitutional documents or through contract, and means to encourage transparency and reporting on social impact.
The group recognises the different legal frameworks and starting points of each country, as well as the different attitudes to social business, profit and purpose that prevail. The aim is to develop a set of principles that will apply across all G8 countries, which will be included in the overall recommendations made by the Taskforce to G8 leaders later this year.
A for-profit form won't be the right choice for all social entrepreneurs. In the UK, the forthcoming reform to the Community Interest Company Limited by Shares should make it more attractive for many, and there are various other options. Those who do opt for a for-profit model acknowledge the challenges it raises, but stress that this is worthwhile. As Juan Guerra of StudentFunder says, "[There's a] perceived inevitable trade-off between generating returns and delivering social good – but that's not necessarily the case. It's a lot more challenging and you need a lot more creativity to do it, but it can be done."
Tom Hooper of Third Space Learning speaks for many: "I strongly believe there isn't anything mutually exclusive about profit and tackling the biggest problems in society." Social entrepreneurs like Zoe, Juan and Tom are pushing conventional boundaries and finding ways to align investability and commercial success with social impact. With the right push from the G8 process, a new class of social purpose, for-profit business is set to emerge and flourish.
* The UnLtd research will be launched at a session at the Oxford Jam fringe, at 11am on 11th April.

Sir Ronald Cohen is Chairman of the Social Impact Investment Taskforce and is speaking at the opening plenary of Skoll World Forum 2014. Tom Fox is Policy Lead at UnLtd. Cliff Prior is Chief Executive of UnLtd and chairs the Taskforce's Mission Alignment Working Group.