Smallholder Impact and Risk Metrics: A Labyrinth of Opportunity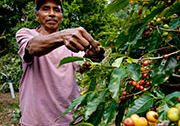 Smallholder Impact and Risk Metrics: A Labyrinth of Opportunity
March 31, 2014 | 4815 views
One reason only 3% of demand for smallholder agricultural finance has been met is because investors lack sufficient data about the benefits and risks of directing their funds to smallholder agricultural finance. A number of innovative and promising new impact and risk measurement tools have emerged, but it is challenging to understand their varying functions and how they fit together.
In light of this situation, the Initiative for Smallholder Finance has catalogued available measurement tools, documented the status quo, and researched the benefits of increased collaboration.
The Initiative's third briefing document "Smallholder Impact and Risk Metrics: A Labyrinth of Opportunity" takes stock of the existing landscape of smallholder impact and risk measurement and presents three new tools that will set the stage for increased collaboration that can drive internal improvements to increase the amount of money directed to improving smallholders' access to finance:
A Universal Smallholder Theory of Change, which represents an emerging consensus on a common theory of change across the smallholder agricultural finance community.
The Initiative for Smallholder Finance developed the Universal Smallholder Theory of Change in consultation with leading smallholder agricultural investors, technical assistance experts, certification bodies, commercial agricultural brands, and many of the foundations supporting the space. The Theory of Change represents an emerging understanding of how improvements in access to finance, technical assistance, markets for products, and country-level infrastructure can unlock a virtuous cycle that centers on the agriculture value chain for smallholders. This cycle can lead to improved productivity, income, resilience, and reduced risk.
The Theory of Change helps shape a shared vision so the industry can tell a cohesive story about the impact their work is creating for smallholder farmers. Research organizations will be able to focus resources and efforts to demonstrate the relationships represented in the Theory of Change. This will free practitioners from the need to conduct costly outcome and impact-level studies for all of their activities and will allow them to focus on a small number of metrics that capture the scale of their activities.
A Smallholder Impact Literature Wiki, seeded with over 100 relevant citations. The Wiki is a platform (editable by anyone in the smallholder community) that will capture, organize, and easily access the growing body of literature about smallholder interventions.
The Wiki will allow practitioners to quickly access studies and findings that can reinforce their impact and inform new efforts. Literature from the Wiki will help practitioners better understand and communicate the context and external factors affecting the impact of their activities. Field-builders (foundations, researchers, and leading social investors) can look at the Wiki to identify knowledge gaps and more effectively prioritize their research. Finally, the Wiki will also be a platform on which multi- and bi-lateral institutions, academics, and other researchers can promote the growing body of evidence they are creating.
A Landscape of Smallholder Impact and Risk Assessment Tools, which seeks to clarify what can often be a daunting collection of metrics tools.
The Landscape tool outlines the range of principles, methodologies, metrics libraries, data collection tools, and data aggregators that the smallholder community uses. Users can sort through the tools by their unit of analysis (e.g., farm, cooperative/SME, or financial institution) and read detailed information about each tool. To help further "demystify" the metrics space, the website also features an eight-minute guided walk-through of the landscape.
It is time for the smallholder agricultural finance community to focus on metrics efforts that can catalyze the growth of the industry. Together, these tools will help the industry demonstrate impact – an important foundation for growth. By embracing the Universal Theory of Change and using the Smallholder Impact Literature Wiki and Landscape of Smallholder Impact and Risk Assessment Tools, the industry can simplify the complicated world of impact and risk assessment.
Visit the Smallholder Impact and Risk Metrics web portal to learn more.
Read the full briefing document: "Smallholder Impact and Risk Metrics: A Labyrinth of Opportunity"
Register for ISF's webinar: "Five New Technologies to Simplify Data Collection in Smallholder Finance"
Sara Wallace of Dalberg Global Development Advisors contributed to this article.