A Vision for Cross-Sector Peacebuilding in Israel and Palestine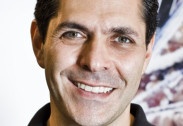 A Vision for Cross-Sector Peacebuilding in Israel and Palestine
March 24, 2014 | 4865 views
Daniel Lubetzky is the founder and president of the PeaceWorks Foundation and the OneVoice Movement as well as a Skoll entrepreneur and awardee.  Nisreen Shahin is executive director of PeaceWorks Foundation Palestine and former executive director of OneVoice Palestine.  Baruch Spiegel is senior counselor for the PeaceWorks Foundation and OneVoice Israel and senior advisor at the Economic Cooperation Foundation in Israel.
Making peace is an inexact science—highly contextual, fraught with challenges, and often contingent on the politics of the moment. Yet there is at least one common thread linking successful peacemaking across different conflicts in different regions of the globe: Sustainable peace requires distinct social sectors working together toward a common goal.
For over a decade, the OneVoice Movement has been empowering and mobilizing communities in Israel and Palestine to propel their leaders toward the two-state solution. We have succeeded in building a grassroots network committed to that goal, and on March 30, we will be launching one of our most innovative campaigns to date, designed to reconnect young Israelis to the peace process by highlighting the concrete improvements that an agreement will bring in the economic issues that matter most to them—the cost of living, affordable housing, and education.
Yet our work—and the work of so many others from government and civil society—has yet to yield a final status agreement.
While there is no shortage of interest in playing the blame game about why peace remains elusive, we decided to take a different approach and chart a new strategic vision: the People's Blueprint.  This vision is premised on the idea that no one effort alone will end the occupation and the conflict, establish an independent Palestine, and ensure security and dignity for both sides. Though the international community has a crucial role to play, Israelis and Palestinians themselves must be the driving force behind a lasting resolution of the conflict. And the People's Blueprint provides a methodology for enabling different sectors within each society to work collaboratively toward the two-state goal.
To inform implementation of our vision, we partnered with the Harvard Negotiation and Mediation Clinical Program to conduct a stakeholder assessment across civic, economic, political, and religious institutions in Israel, Palestine, and internationally that are working to end the conflict. This groundbreaking study revealed five key opportunities for cross-sector peacebuilding:
Opportunity 1: Break the stereotype that religious groups will inflame tensions. There has long been hesitation to engage religious groups in efforts to resolve the Israeli-Palestinian conflict due to a false assumption that they are inherently polarizing. To the contrary, the Harvard assessment concluded that there is tremendous potential for cross-sector cooperation involving religious institutions and congregations—for example, between the religious and economic sectors on religious tourism or between religious groups and local communities on developing proposals for ensuring open access to holy sites under a peace agreement.
Opportunity 2: Engage economic groups on a narrow set of issues related to the business community. Economic groups want to play their part in peace building but find grandiose political statements and initiatives outside their remit. Focusing on issues relevant to their day-to-day commercial activities, such as permits for access and movement of people and goods and land use in Area C, would tie them to peacebuilding more effectively than pleas for providing rhetorical or financial support for a hypothetical peace agreement.
Opportunity 3: Involve technical experts. Specialized professionals could provide technical solutions that expand the range of feasible options for resolving the core issues of the conflict. Friends of the Earth Middle East, another Skoll Awardee, have done this in practice through their water appendix for negotiators.  Similarly, skilled architects and urban planners could develop creative proposals for making Jerusalem the undivided capital of both Israel and Palestine.
Opportunity 4: Coordinate efforts to engage youth. Almost every group involved in ending the conflict emphasizes education and training in one form or another. Rather than competing for participants within the same pool of human capital, different sectors could synchronize their efforts to develop an iterative process for training the next generation of community and business leaders in Israel and Palestine.
Opportunity 5: Promote sustainable cross-sector projects by sequencing the work of organizations with complimentary missions but unique resources and/or capabilities. Rather than pursuing collaborations centered on joint, concurrent projects, organizations should re-define successful partnerships as those that are part of value chains—executing programs consecutively to enhance long-term impact.
The People's Blueprint presents a framework for leveraging the opportunities of cross-sector programming, enabling myriad diverse actors to play an effective role in peacebuilding. While still concentrating on the areas where we have a comparative advantage—such as grassroots mobilization—OneVoice is calibrating its programming to take advantage of these opportunities and seek out new areas of partnership. While there are no silver bullets in peacebuilding, only by harnessing the collective power of multiple sectors within society will we change the dynamic to realize the two-state solution.