Inside Root Capital's Women in Agriculture Initiative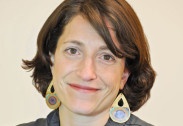 Inside Root Capital's Women in Agriculture Initiative
March 17, 2014 | 5735 views
I am honored to be participating in the panel at this year's Skoll World Forum in April on Unlocking the Entrepreneurial Ambition of Women. At Root Capital, I have been one of the co-developers of our Women in Agriculture Initiative, the purpose of which is to increase the impact we have on women in agricultural value chains. We do this by providing loans and financial management training to agricultural enterprises that provide reliable economic opportunities to women, thereby allowing women to contribute, alongside their male counterparts, to growing rural prosperity. Our five year goal is to increase to 200 the number of agricultural businesses in our portfolio that meet the gender inclusion criteria baked into our Social Scorecard. (We recently published this Scorecard, along with its Environmental sibling – they can be found here on Root's web site).
Over the past 12 months, I've been thinking a lot about leadership in light of crisis situations, in particular the crisis facing the coffee industry in Meso and South America caused by the onslaught of the disease coffee leaf rust or roya. Since early 2013, roya has been wreaking havoc on the coffee plants and therefore the livelihoods of coffee farmers from Mexico to Peru. The devastation has been well documented with several countries declaring states of emergencies and crop losses in certain areas topping 40%.
In the midst of this crisis stands Fátima Ismael, the general manager of SOPPEXCCA (Asociación de Desarrollo Integral Productivo Cocolense), a Root Capital client for over a decade. SOPPEXCCA is a Fair Trade and organic certified coffee grower cooperative located in the jungles of Jinotega, Nicaragua, an area that boasts 65% of the nation's coffee production. The cooperative is known for its empowerment of women farmers. Most notably, SOPPEXCCA produces Las Hermanas coffee, a Fair Trade-certified brand supplied by women producers. Profits from sales of Las Hermanas coffee are invested in a variety of projects directly benefiting women in the coffee community, including a cervical cancer prevention program.
In an industry where land ownership, which often eludes women, is a key to economic freedom, Fátima also oversees a program that helps female farmers gain title to land.  "A woman's independence can only be achieved through economic autonomy and awareness," says Fátima.
Fátima's vision and leadership has paid off in the context of roya. She has adapted the land program to design an impressive coffee plant renovation program. This is a multi faceted partnership with the members of SOPPEXCCA to uproot sick or unproductive trees, and select, plant, and take care of new ones that are resistant to the disease. Moreover, seemingly in the spirit of "Never let a good crisis go to waste," Fátima has expanded the program further by working with members at altitudes where climate change is making coffee farming increasingly difficult and helping them shift to cocoa. Just a few months ago, Root Capital approved a $2 million loan to SOPPEXCCA to capitalize these efforts.
The roya crisis needs Fátima Ismael and her cooperative members are darn lucky to have her at the helm of SOPPEXCCA. But as I think about women leaders and women entrepreneurs in the context of our Women in Agriculture Initiative, I also know that there aren't yet enough Fátimas in the world and we can't afford to limit the lens through which we seek out clients to leadership alone. To do this would be a disservice to women farmers and the communities they represent.
For this reason, we have designed Root's Scorecard, which we use to evaluate each loan entering our portfolio, to calculate a gender score based on a mix of gender inclusive leadership and mid-management, membership and employment, and access to services. By acknowledging the evidence of gender inclusion in its many facets, we have identified the important roles that women play at all levels of agricultural enterprises – not just at the top. For example, we have purposefully chosen to expand our definition of gender inclusive to include women as 'hidden influencers' such as mid-level managers who play less conspicuous roles than top tier leaders but whose impact on their communities can be nonetheless profound.
I believe firmly that gender lens investing will realize its full potential only if we continue to support inspirational leaders while also addressing the barriers faced by women working in the fields, factories, front offices, and farmer demonstration plots throughout the developing world.