Investigative Journalism and the New Transparency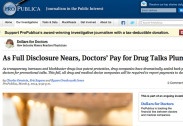 Investigative Journalism and the New Transparency
March 11, 2014 | 5054 views
The collapse of the traditional business model underlying many legacy news organizations and the rise of new digital publishing models have had wide-ranging effects, most of them still very much playing out.
But a number of trends and lessons are now widely agreed.  Among these:
Much of investigative journalism in the U.S. and perhaps elsewhere has become a public good—that is, investigative journalism has been the subject of a market failure almost certain to persist.  Much of it will need to be funded through non-market mechanisms, including both mass (direct email) and elite ("major gifts" and institutional) philanthropy.
On the brighter side, however, the very digital technologies giving rise to this disruption also enable new forms and formats of publishing investigative journalism that are truly innovative.
In particular, transparency is now possible with respect to many sorts of public information, and information in the public interest, in forms and places not previously possible, and with effects and potential we are only beginning to explore.
This article looks briefly at how the intersection of these three premises are playing out in the life of ProPublica, the leading new American investigative non-profit of recent years.  Theories and general postulates aside, what kind of work and processes are currently underway that will turn the promise of this new transparency into a reality?
At ProPublica we have seen, and to some extent led the way at least three important such effects:
Distributed data as an engine for news: ProPublica has led the field in creating what we call "news applications," or large databases that support both important stories at a national level and simultaneously make feasible similar local stories across the country.  The best known of these has been "Dollars for Docs," launched in late 2010, which charts promotional payments by pharmaceutical companies to doctors seeking to promote the sale of prescription drugs.  Not only has ProPublica published more than 50 stories of its own on this subject in the last three and one-half years, the ability to localize the findings of the database, and the dissemination of "reporting recipes" and conference calls offering tips on how such stories can be most effectively and efficiently crafted have spurred more than 180 other news organizations around the nation to do stories of their own drawing on the data.  The upshot: more than seven million page views of the database.  The impact: data from 2012, just released, indicates that the practice of such payments, now foresworn altogether by one big company, may be on its way to extinction.
Creative Commons as a tool for news—ProPublica has operated under a Creative Commons license for almost everything it publishes since our site went live in 2008.  But use of this license by other publishers to reproduce ProPublica content really began to explode in 2012.  We even added a "republish" button with each story to simplify the process as much as possible.  For a non-profit publisher, the advantages are obvious: republication increases a story's reach, heightening its chances to spur change.  And the Creative Commons standard license does so in a close-to-frictionless way, avoiding long negotiations, including haggling over obscure points of copyright law unlikely to ever arise in real-life situations.  For the "receiving" publisher—of whom there have now been hundreds, ranging from some of the web's largest news sites to some of its smallest blogs—the advantages are equally clear: additional content, hand-selected once it has been finished, and chosen by the very editors or bloggers who know their own communities best.  The use in this manner of Creative Commons by ProPublica is unlikely ever to prove attractive to for-profit publishers who hunger for every available page view and click for their own original material, but the rise of more non-profits is likely to result in it being deployed more often.
Leveraging government information for news—ProPublica recently launched its Data Store, in part in an effort to recover the very significant costs of creating databases like Dollars for Docs (charges for the databases are minimal for journalists, modest for academic researchers, but negotiable for commercial users).  But the Data Store also took another significant step toward magnifying hard-won victories for transparency by offering free one-click downloads of entire databases received by ProPublica under the federal Freedom of Information Act and similar state laws.  We are working actively to broaden and deepen the collection of such materials available through the Data Store, and hope also to use its technology to mount for re-distribution data received by other news organizations similarly committed to the new transparency.
These three initiatives do not constitute some sort of millennium by any means, and, happily, a few others are engaged in similar efforts.  But I hope and believe they provide some granular context and content for notions of what a new commitment to transparency, fueled by new technologies and unleashed by new business models, can make possible.